ScrapeStorm Vs. ParseHub: Which Web Scraper is Better? | Web Scraping Tool | ScrapeStorm
2022-05-20 11:08:50
3934 views
Abstract:This article will compare the difference between ScrapeStorm and ParseHub. ScrapeStormFree Download
Web scraping is no longer an act meant only for programmers. Even non-coders can now scrape any data from any website without writing a single line of code — thanks to the existence of visual web scrapers such as ScrapeStorm and ParseHub. With visual web scrapers, anybody with the skill of using the mouse can extract data from web pages.
Allow us to compare some of the 2 most popular options in the market.
ScrapeStorm and ParseHub are both very powerful and useful web scraping tools. Today, we will put both tools head-to-head to determine which is the best for your scraping project.
ParseHub Introduction
ParseHub is a full-fledged web scraper. It comes as a free desktop app with premium features. Hundreds of users and businesses around the world use ParseHub daily for their web scraping needs.
ParseHub was built to be an incredibly versatile web scraper with useful features such as a user-friendly UI, page navigation, IP rotations and more.
ScrapeStorm Introduction
ScrapeStorm is an AI-Powered visual web scraping tool,which can be used to extract data from almost any websites without writing any code.
It is powerful and very easy to use. You only need to enter the URLs, it can intelligently identify the content and next page button, no complicated configuration, one-click scraping.
ScrapeStorm is a desktop app available for Windows, Mac, and Linux users. You can download the results in various formats including Excel, HTML, Txt and CSV. Moreover, you can export data to databases and websites.
Cost Comparison
Brand
ScrapeStorm
ParseHub
Professional
Premium
Business
Standard
Professional
Monthly plan ($)
49.99
99.99
199.99
189
599
Both services offer a free plan that grants multiple projects and hundreds or more pages.We recommend you try out the free plans for both tools first before making a decision on paid plans. Visit our download page to start web scraping for free with ScrapeStorm now.
Feature Comparison
| | | |
| --- | --- | --- |
| Feature | ParseHub | ScrapeStorm |
| Authoring environment | Desktop app (Mac, Windows and Linux) | Desktop app (Mac, Windows and Linux) |
| Scraper logic | Variables, loops, conditionals, function calls (via templates) | Variables, loops, conditionals, function calls (via templates) |
| Pop-ups, infinite scroll, hover content | Yes |  Yes |
| Debugging | Visual debugger | Visual debugger |
| Coding | None required | None required |
| Data Selector | Point-and-click, CSS selectors, XPath | Point-and-click, XPath |
| Hosting | Hosted on cloud of hundreds of ParseHub servers | Hosted on your local machine or your own servers. |
| IP Rotation | Included in paid plans | Must pay external service |
| Support | Free professional support | Free professional support, tutorials, online support |
| Data export | CSV, JSON, API | Excel, CSV, TXT, HTML, Database, Google Sheet |
| Image Download | Supported | Supported |
Data Extraction Methods
How is data being extracted in a web scraper determines whether you will find it easy to use a web scraper or not.
ParseHub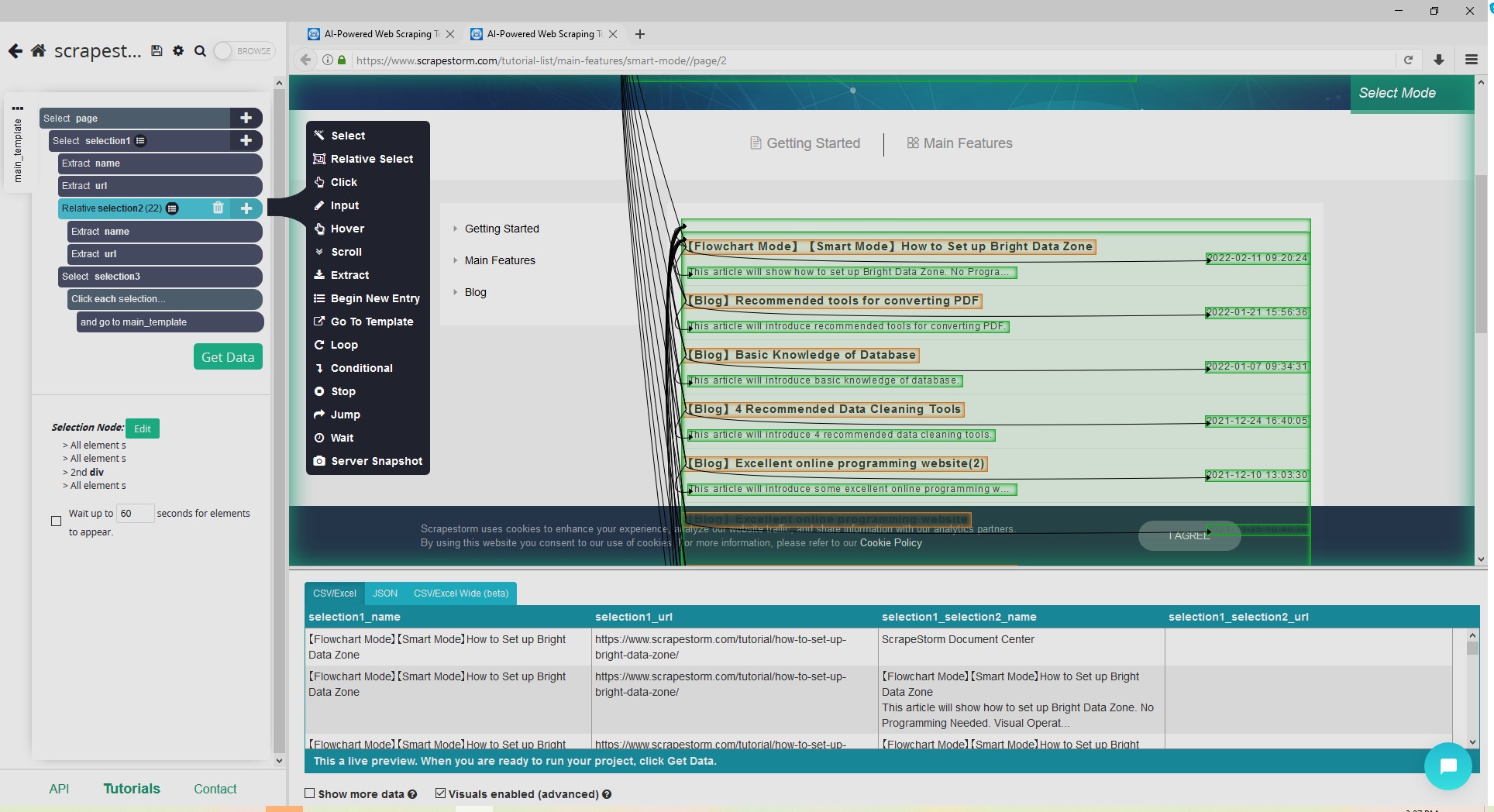 ParseHub support for a point and click interface. It also has support for XPATH — and that is not all. ParseHub has got support for CSS selectors which makes it easier for those with a background in web development. It also has support for regular expression, making it possible to scrape data hidden deep within texts. However, the way of clicking on ParseHub is a bit complicated, and it takes some learning to master it.
ScrapeStorm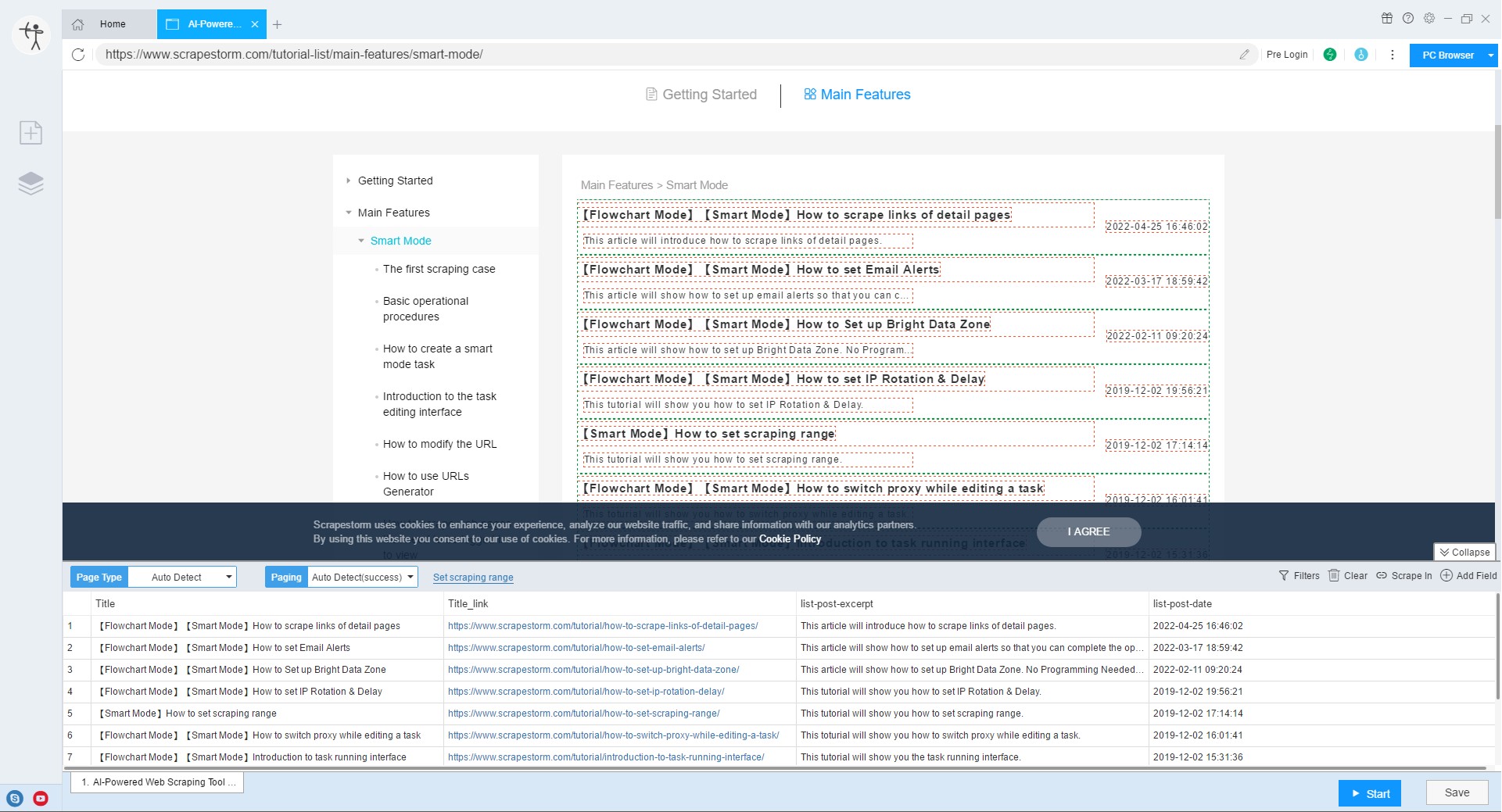 ScrapeStorm also does support a point-and-click interface. It also supports XPATH, regular expressions and more. The data selection method of ScrapeStorm is very simple and clear, and related operations can also be performed through the buttons on the interface. Even if you don't know the software at all, you can start extracting data at the first time.
Conclusion
Looking at the above, you would see that there are no much differences between ScrapeStorm and ParseHub. In fact, they are more similar than they are different from each other. This means that for the most part, the one you use does not really matter as they should both be useful for most visual web scraping projects.
However, from experience, ScrapeStorm is a little bit simpler and easier to use than ParseHub because of the lesser features it comes with — it is also cheaper.
Disclaimer: This article is contributed by our user. Please advise to remove immediately if any infringement caused.