Web Scraper: ScrapeStorm Vs. Mozenda | Web Scraping Tool | ScrapeStorm
2022-06-17 16:30:26
1448 views
Abstract:This article will compare the difference between ScrapeStorm and Mozenda. ScrapeStormFree Download
ScrapeStorm and Mozenda are both very powerful and useful web scraping tools. Today, we will put both tools head-to-head to determine which is the best for your scraping project.
Mozenda Introduction
Mozenda provides technology, delivered as either software (SaaS and on-premise options) or as a managed service, that allows people to capture unstructured web data, convert it into a structured format, then "publish and format it in a way that companies can use."
Mozenda Provides: 1) Cloud-hosted software 2) On-premise software 3) Data Services Over 15 years of experience, Mozenda enables you to automate web data extraction from any website.
ScrapeStorm Introduction
ScrapeStorm is an AI-Powered visual web scraping tool,which can be used to extract data from almost any websites without writing any code.
It is powerful and very easy to use. You only need to enter the URLs, it can intelligently identify the content and next page button, no complicated configuration, one-click scraping.
ScrapeStorm is a desktop app available for Windows, Mac, and Linux users. You can download the results in various formats including Excel, HTML, Txt and CSV. Moreover, you can export data to databases and websites.
Cost Comparison
Mozenda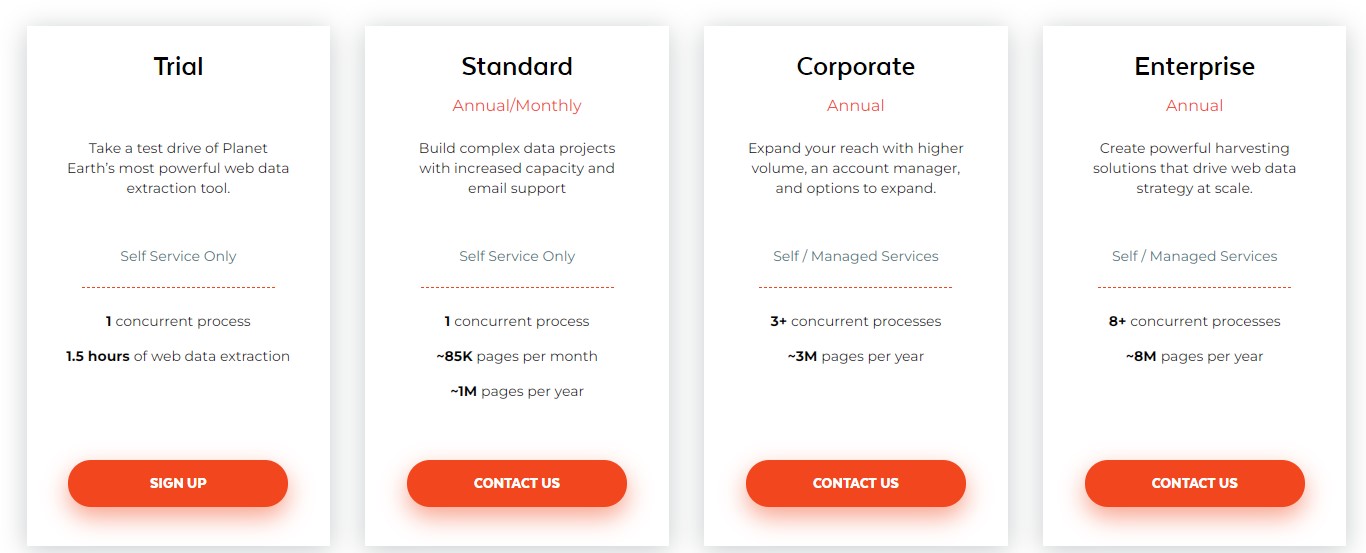 ScrapeStorm


Both services offer a free plan that grants multiple projects and hundreds or more pages.We recommend you try out the free plans for both tools first before making a decision on paid plans. But Mozenda doesn't provide detailed pricing right now.
Visit our download page to start web scraping for free with ScrapeStorm now.
Feature Comparison
| | | |
| --- | --- | --- |
| Feature | Mozenda | ScrapeStorm |
| Authoring environment | Desktop app (Windows), Cloud | Desktop app (Mac, Windows and Linux) |
| Coding | None required | None required |
| API | Yes | Yes |
| Automated Scheduling | No | Yes |
| IP Rotation | No | Yes |
| Image Download | Supported | Supported |
| Alerts/Notifications | Yes | Yes |
| Support | Free professional support, phone support | Free professional support, tutorials, online support |
| Data export | CSV, JSON, API | Excel, CSV, TXT, HTML, Database, Google Sheet |
| Text Analysis | Supported | Not supported |
Data Extraction Methods
How is data being extracted in a web scraper determines whether you will find it easy to use a web scraper or not.
Mozenda
There are two parts to Mozenda: the Mozenda Web Console and Agent Builder. The Mozenda agent builder is a Windows application used for building a scraping project and the web console is a web application allowing users to set schedules to run the projects or access to the extracted data.
Mozenda is a point-and-click web scraper that anyone can use.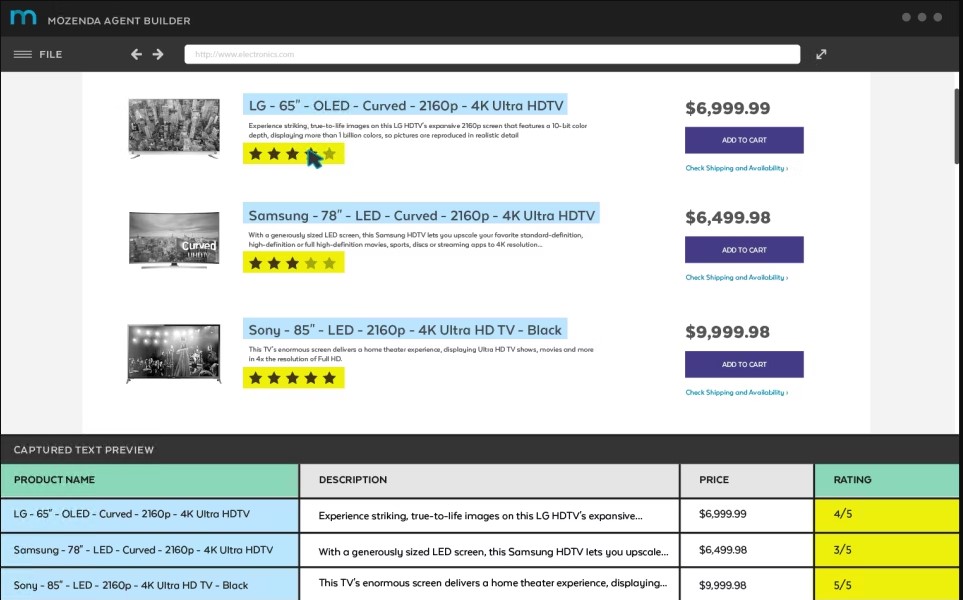 ScrapeStorm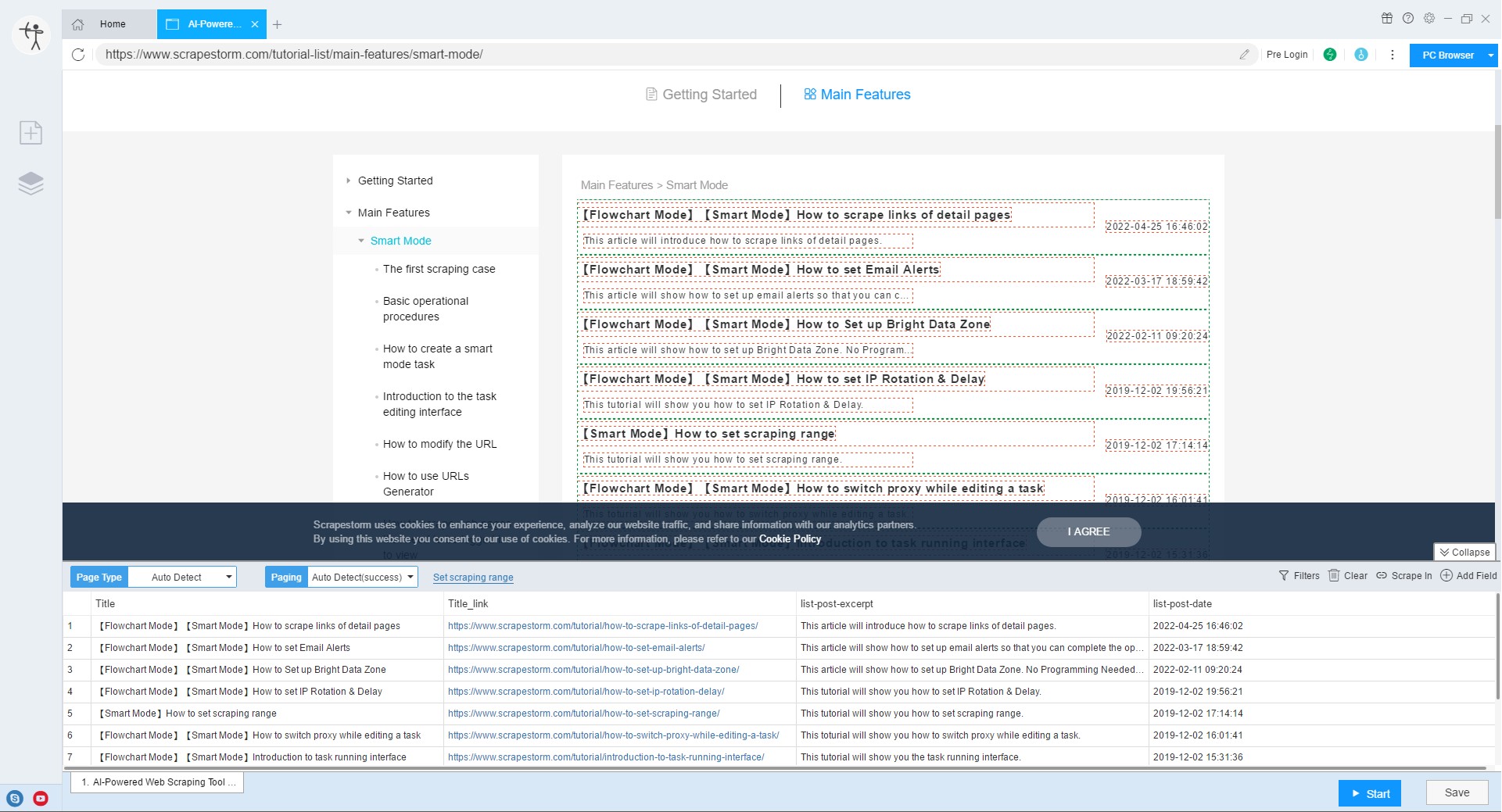 ScrapeStorm also does support a point-and-click interface. It also supports XPATH, regular expressions and more. The data selection method of ScrapeStorm is very simple and clear, and related operations can also be performed through the buttons on the interface. Even if you don't know the software at all, you can start extracting data at the first time.
Conclusion
Looking at the above, you would see that there are no much differences between ScrapeStorm and Mozenda.
So which web scraper is the best for your project?
The truth is that it depends. Mostly, it depends on the needs of your scraping project. We'd recommend you try the free trial from both tools and take them out for a test drive before settling on an option.
Disclaimer: This article is contributed by our user. Please advise to remove immediately if any infringement caused.