Magnolia CMS | Web Scraping Tool | ScrapeStorm
2023-08-31 09:19:23
191 views
Abstract:Magnolia CMS is an open source content management system (CMS) for building powerful digital experiences and websites. ScrapeStormFree Download
ScrapeStorm is a powerful, no-programming, easy-to-use artificial intelligence web scraping tool.
Introduction
Magnolia CMS is an open source content management system (CMS) for building powerful digital experiences and websites. It provides a flexible and easy-to-use platform designed to help businesses manage and distribute content, personalize the user experience, and facilitate multi-channel digital marketing.

Applicable Scene
Magnolia CMS is suitable for a variety of scenarios, especially for enterprises that require a strong digital experience and personalized content management. It is suitable for building corporate portals, content-rich websites, digital stores, and multi-channel digital marketing platforms. Whether it is a small or medium-sized enterprise or a large enterprise, Magnolia CMS can provide them with flexible content management and personalized user experience to meet different business needs.
Pros: The advantage of Magnolia CMS lies in its flexibility and personalized experience, which is suitable for building enterprise portals and multi-channel digital experiences. User-friendly interface and support from the open-source community
Cons: Magnolia CMS has a steep learning curve and may require investment in learning costs. The cost is higher and relatively niche, with relatively limited community support.
Legend
1. Magnolia CMS home page example.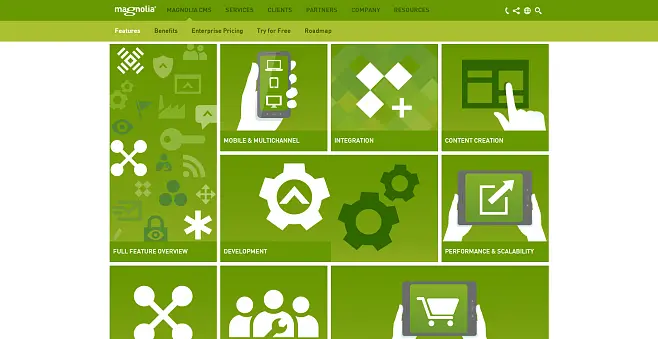 2. Magnolia CMS support system.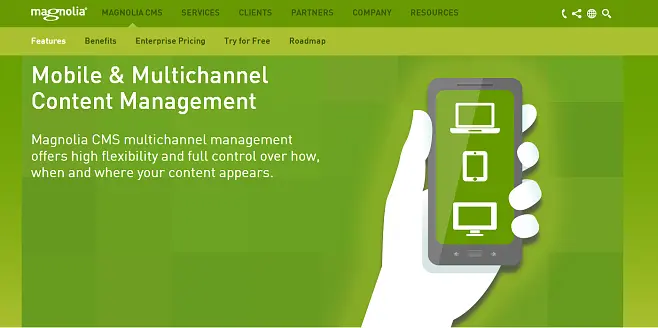 Related Article
Reference Link
https://en.wikipedia.org/wiki/Magnolia_(CMS)